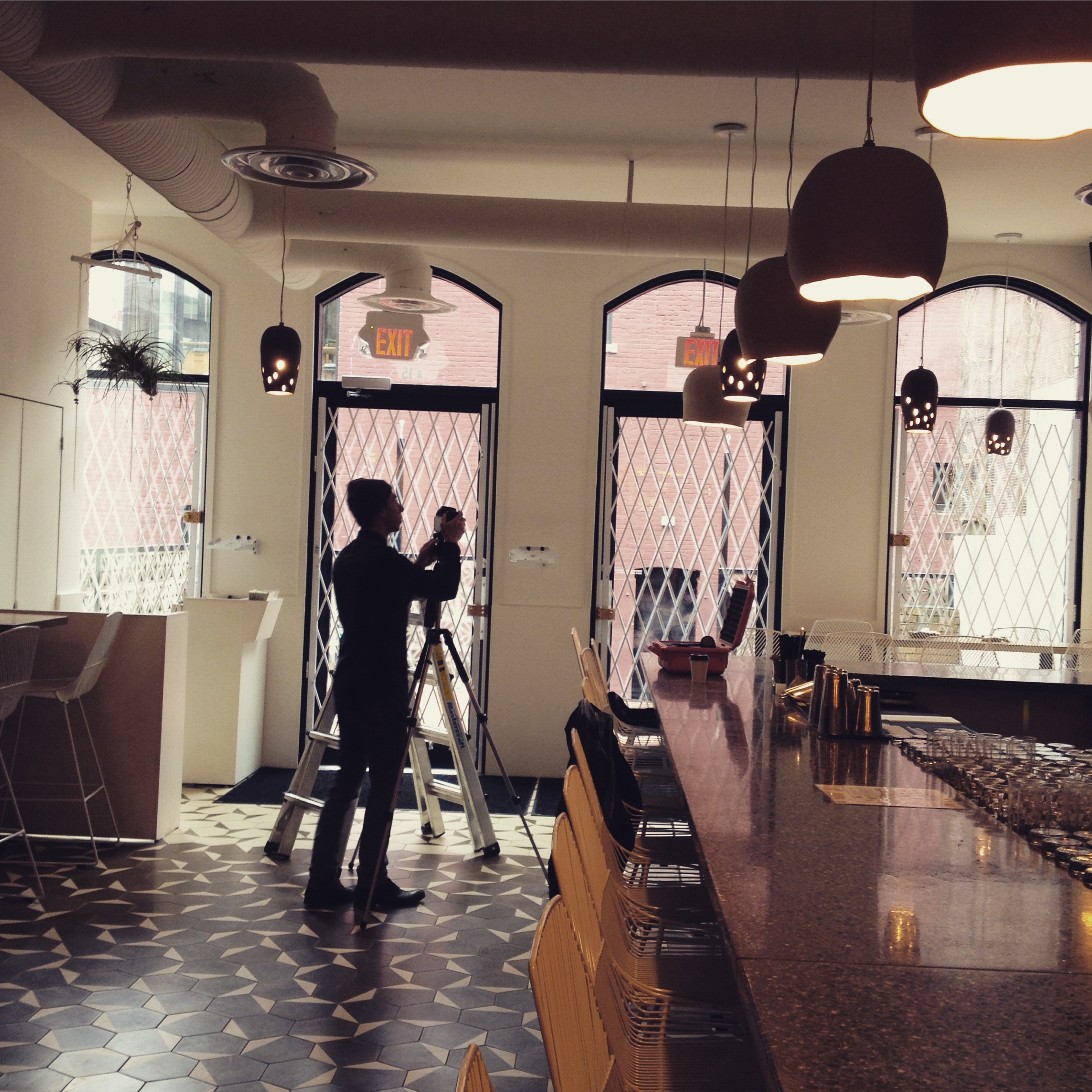 In 2017 I was able to work on an incredible project with Vancouver/Luxembourg artist Mike Bourscheid for the 2017 Venice Biennale. He designed a number of elaborate costumes for this exhibition and I was commissioned to create a ceramic vase helmet for the costume he wore during the opening reception. It is a two part vase/hemet--the top portion is recessed into the bottom section, and the two halves are held together by a leather belt. During the reception visitors to the Biennale placed flowers in the vase as a gesture of greeting to the artist. Working on projects such as these gives me great joy, and I am always thrilled to test my limits and abilities working in this way with other artists and designers.
Below are images and information about previous projects.
PAST PROJECTS:
August 2016 marked the completion of 21 pendant lamps for the third Tacofino--Yaletown. Swing by to see some bombastic design by Vancouver local designer Shioh Sukkau. Mural by Courtney Presber, counter tops by Johnny Burgess, and artwork by Caroline Weaver. Check my NEWS link for other upcoming projects.
In January 2015 I completed a lighting project for Vancouver's second Tacofino location (15 West Cordova). A well known taco hot spot with locations in Tofino, Victoria, and Vancouver. Tacfofino is renowned for their incredible food and stunning design. Along with colourful string globe lights by interior designer Shiloh Sukkau, 24 ceramic pendant lamps in white a terrecotta hang over the bar and mid section of the restaurant.
From 2007 through to 2009 I was commissioned to prototype and create the ceramic component of BOCCI's 21 series pendant light. Over the period of those two years I produced just over 2500 of these porcelain shades in black and white. This series can be seen all over the world in locations like Vancouver's Inform, all the way to Bucharest's Radison Blu Hotel, and many others in-between. BOCCI continues to manufacture these incredible lights in larger quantities along side many other beautiful and innovative designs.
In 2006 BOCCI commissioned me to produce ceramic bowls for multiple tables in their 17 series. These tables were designed by Vancouver based architect and designer Omer Arbel, and were one of the many features in his 1000 beach penthouse project. Empty pools were carved into solid walnut and marble tables and were then filled with porcelain bowls in black or white.